---
AN APPEAL FOR SUPPORT
We seek your support to meet the expenses relating to the formatting of articles and books, maintaining and running the journal through hosting, correrspondences, etc.Please write to the Editor in his e-mail address msthirumalai2@gmail.com to find out how you can support this journal.
Also please use the AMAZON link to buy your books. Even the smallest contribution will go a long way in supporting this journal. Thank you. Thirumalai, Editor.
---

---
---
BOOKS FOR YOU TO READ AND DOWNLOAD FREE!
---
REFERENCE MATERIAL
BACK ISSUES
---
E-mail your articles and book-length reports in Microsoft Word to msthirumalai2@gmail.com.
Contributors from South Asia may send their articles to
B. Mallikarjun,
Central Institute of Indian Languages,
Manasagangotri,
Mysore 570006, India or e-mail to mallikarjun@ciil.stpmy.soft.net.
PLEASE READ THE GUIDELINES GIVEN IN HOME PAGE IMMEDIATELY AFTER THE LIST OF CONTENTS.
Your articles and booklength reports should be written following the APA, MLA, LSA, or IJDL Stylesheet.
The Editorial Board has the right to accept, reject, or suggest modifications to the articles submitted for publication, and to make suitable stylistic adjustments. High quality, academic integrity, ethics and morals are expected from the authors and discussants.


Copyright © 2009
M. S. Thirumalai
---
The Voice of Servility and Dominance Expressed through
Animal Imagery in Adiga's The White Tiger
M. Poonkodi, Ph.D.
---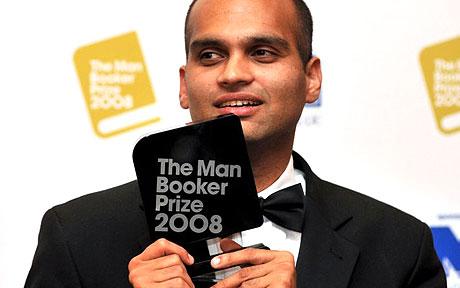 Abstract
The purpose of this article is to investigate how Aravind Adiga has used animal imagery in his award winning novel The White Tiger and determine how this narrative device is effectively linked to its title and the theme.
The symbols of animals are normally related to three main ideas: "a mode of transportation, as an object of sacrifice, and as an inferior form of life." Aravind Adiga's use of animal imagery depicts the dominant but negative qualities of Indian Masters and servile instincts of the servant class.
Close reading has been given to the novel to trace the course of the Protagonist, Balram's journey from jungle like village to city and record the resentful voice of his aspirations and frustrations with special focus on animal imagery and its relevance.
Balram represents the servant class that has been trained to exist in perpetual servitude and unwilling to rise against the masters, powerful and strong in terms of class, community and status. Much of the discussion in the analysis has been my own interpretation combined with those made by others about this novel or any other novel bearing semblance in its tone and tenor.
Introduction
Aravind Adiga's maiden novel that won him the Bookers Prize bears a symbolic title The White Tiger. The novel is a satire on the contemporary Indian milieu, proud of its long-lasting democratic status and ongoing political strategies that seem to confer judicious grades of equality to Indian populace.
It is amusing to note that Indian English novels, written by both men and women, irrespective of their gender differences, bear a common theme of conflict or war between two groups - one having a superior identity as a master coercing the other to fall in line with his/her self-conceited ideological preferences, vile and gaiety.
Aravind Adiga is no exception. He lavishly uses a distinctive narrative technique that complements his theme delivered through scattered imagery, especially selected from animal kingdom. The use of animal imagery with an "Orwellian insight"1 partially minimizes his imagination. Yet he finds it a convenient tool to discover the peculiarities in human behaviour and "attack poverty and disparity without being sentimental or condescending"2
Inherent Nature of Indians to Employ Imagery
All over the world, writers with concern towards humanity get agitated when they witness horrors and horrendous conditions, thwarting men's dreams and enterprises. They express their empathy in their theme, using rich animal imageries. Indians, in particular are accustomed to the art of employing imagery in their conversational deliverance or philosophical deliberations: "talking metaphorically or obliquely by implication is generally natural with Indian.
In everyday language they often use imagery as a means of expressing, reinforcement, illustration, evocation and also as objective correlative."3 Aravind, due to his "inherent Indianness,"4 uses excessive animal imagery with literal, metaphorical and allegorical meanings. His novel is populated with buffaloes, pigs, roosters and other species of fowl and fauna.
---
This is only the beginning part of the article. PLEASE CLICK HERE TO READ THE ARTICLE IN PRINTER-FRIENDLY VERSION.
---
Attitude towards Mother Tongue - A Study of the Tribal Students of Orissa | Computer-mediated Communication in a Bilingual Chatroom | Compensation Strategies for Speaking English Adopted by Engineering Students of Tamil Nadu - A Study | Acquisition of English Intransitive Verbs by Urdu Speakers | Community, Culture and Curriculum in the Context of Tribal Education in Orissa, India | Auxiliary Verbs in Modern Tamil | Getting Around 'Offensive' Language | Noun Morphology in Kuki-Chin Languages | A Plea for the Use of Language Portals in Imparting Communication Skills | Advances in Machine Translation Systems | A Comparative Study of the Effect of Explicit-inductive and Explicit-deductive Grammar Instruction in EFL Contexts | Lexical Choice and Social Context in Shashi Deshpande's That Long Silence | The Voice of Servility and Dominance Expressed through Animal Imagery in Adiga's The White Tiger | Phonological Analysis of English Phonotactics of Syllable Initial and Final Consonant Clusters by Yemeni Speakers of English | Effective Use of Language in Communicating News through Political Emergency | Helping the Limited English Proficient Learner Learn the Second Language Effectively through Strategy Instruction | P.S. Sri's The Temple Elephant: A Bestiary with Socio-Political and Spiritual Message | Papers Presented in the All-India Conference on Multimedia Enhanced Language Teaching - MELT 2009 | A Phonological Study of the Variety of English Spoken by Oriya Speakers in Western Orissa - A Doctoral Dissertation | HOME PAGE of November 2009 Issue | HOME PAGE | CONTACT EDITOR
---
M. Poonkodi, Ph.D.
Department of English
Karunya University
Coimbatore-641114
Tamilnadu, India
poonkodi@karunya.edu
Send your articles
as an attachment
to your e-mail to
msthirumalai2@gmail.com.
Please ensure that your name, academic degrees, institutional affiliation and institutional address, and your e-mail address are all given in the first page of your article. Also include a declaration that your article or work submitted for publication in LANGUAGE IN INDIA is an original work by you and that you have duly acknolwedged the work or works of others you either cited or used in writing your articles, etc. Remember that by maintaining academic integrity we not only do the right thing but also help the growth, development and recognition of Indian scholarship.