SOCIAL ASPECTS OF MOODS IN MALAYALAM
P. M. Girish, Ph.D.
---
1. INTRODUCTION
A mood is a property of verbs that indicates the attitude of the speaker about the factuality or likelihood of what is expressed. The term mood is also applied to the sets of verb forms that convey the attitude. English has four moods. The indicative mood, which is by far the most common, is used to make statements.
The following is a simple list of moods of verbs with information on what they generally signify:
Indicative - mood of certainty, actuality.
Subjunctive - mood of probability.
Imperative - mood of command.
Optative - mood of possibility .
The sentence 'Ashwin shuts the door' is in the indicative mood.
The imperative mood is used to give direct commands, such as 'don't go there or Stop shouting!'
The subjunctive mood is used to indicate doubt or unlikelihood, as in 'If she were here, we wouldn't be in this fix.'
The subjunctive has very limited use in English, having been largely supplanted by modal auxiliaries like may and might.
In short, Mood is the way in which the meaning of a Stem/Base is indicated. What is a Verb Mood? The mood of a verb designates the relationship of the verb's action relative to reality. Unlike English, Malayalam has certain suffixes to express mood's meaning.
2. AIM OF MOODS
Mood, any of the three sets of verb forms that show whether what is said or written is considered certain, possible or doubtful expressions. It is a device to express one's mental attitudes through verb forms.
It is found that moods are the effective markers used by the people in order to express their social status as well as power relations. The present paper tries to analyze the social nature of moods in Malayalam.
3. STRUCTURE OF MOODS IN MALAYALAM
Daatuvartham kurikkum Prakaaram taan prakaaramam (Varma, 1999:196).
It means Prakaaram or moods are the way in which the meaning of a stem or base is indicated. In Malayalam moods can be subdivided into four. Following is the diagram that presents this classification.
1. Nirdesakam - It is just meaning of the base. It does not have suffix.
2. Niyojakam - Mood of Order
3. Vidayakam - Mood of command
4. Anujayakam - Mood of permission
Except Nirdesakam all other moods have suffixes.
There are four kinds of moods in Malayalam: Niyoojakam, Vidhayakam, Anujaayakam, and Nirdesakam. But the Nirdesakam is just keeping of the stem. Niyoojakam is a mood of order, Vidhayakam expresses command and Anujaayakam denotes permission.
The suffixes for moods that are from the future tense are atte for Niyoojakam, anam for Vidhayakam and aam for Anujaayakam. Nirdesakam has no special meaning and special form. Examples are given below with English meaning.
Para+ate-paryatt (let speak)
Para+aam,-Paryam (May speak)
Para+annam-Parayanam (Should speak)
The suffix, 'atte,' is for the first (nhaan) and third person (avan/aval/athu and its plural forms) only. There are no number (vachanam) differences for them. But Niyoojakam has person and number differences. Moods can also be used with auxiliaries.
4. AUXILIARIES AND MOODS
The root, which follows other rootS to help them, is an auxiliary. It means Auxiliary verbs, which support the main verbs by creating difference shade of meaning. It may sometime change from context to context. There are three kinds of auxiliaries in Malayalam: adjectival auxiliary, auxiliary of tense, and auxiliary of completion. Adjectival auxiliary adds special meaning to the meaning of the stem.
kolluka (oolu) Nhan vannolam (I shall come). veykkuka, vituka, kala, tarika varuka etc are the examples.
Auxiliary of tense does have certain comparison in the past present and future tense. For example: irikuka-Vannirikunnu (has come), ittul continuation of the result Nhan padichitunde (I have studied).
Auxiliaries of completion, completion of the obsolete, are the concern of the third, limited in number. Example: untaakum (will take place).
Auxiliaries can be added with the moods. It gives different types of meaning to the moods. For instance, atte- . atte vannu poyikollatte, Vannu poyikollanam, Vannu pookaam
5. MOODS AND DIFFERENT SHADES OF MEANINGS
Moods do have more than one meaning. Moreover, sometimes, meanings overlap each other. For instance, atte-. It is the suffix of Niyoojakam. It denotes a wish for something to happen in the case of third person subject. avan varatte (let him come). It can also be used with the first person subject to ask permission, in a polite manner. Nhaan pokatte (May I go).
Another usage is with a first person inclusive subject: namukke pookam (Let's go). aam, the suffix of Anujaayakam, does also have different meanings. It is used for assurance and different frequencies of assurance. For example:
1. ayal naale varam- Possibility
2. ayal Naale vannekkam- Least possibility
3. ayal naale varumaayirikkum- Not sure
4. ayal naale Vannekkeam- Sometimes
5. ayal naale Vannal vannu- Uncertainty
Vidhayakam's anam refers desire.
1. Nee kallyan kazhikkannam (you should get married) - wish of the speaker.
2. Sometimes it express the meaning of possibility.
avan kulikkunnudavanam. (He might have taken bath.)
Apart from this, the meanings of the moods may change according to the intonation pattern.
6. INTONATION AND MOODS
Variation in the pitch of the voice during speech is intonation. In Malayalam, tonal patterns are super-imposed on intonation movements that relate to syntactic structures and sentences types. Tonal patterns belong to the paralinguistic features used with pitch behaviors in that they reflect the speaker's attitude. A less extended fall conveys politeness. A rise-fall tone expresses annoyance, while a fall-rise expresses dissatisfaction or doubt. A low level tone suggests ion difference. A high level tone issued a warning (Asher, 1999 : 437). This is very relevant in the usages of the moods. Intonation is an expression of attitudes of the speakers. It may also reflect the speaker's social attitude. It seems that, among the three moods, Vidhayakam and Niyoojakam can express the speaker's power attitude to the hearer. But Anujaayakam is a mood of solidarity.
7. POWER, INTONATION, AND MOODS
Language is a material medium using which people interact in society. The most elementary thing to observe is that language is of its nature involved with power devices because it deals with man in society. Power as a kind of domination is often thought to be right and legitimate; however, domination has also been described as a form of repression. In day-to-day life, people have to deal with co-beings and agencies that attempt to exercise power over us, making us do things that they want us to do. Moods are one of the elements to sustain and resist the power.
Solidarity is complete unity and agreement with each other especially in supporting the same aims, wishes, and actions. Same types of power relations are there in the situation like solidarity. How does it work in the social institution like family? This question also is raised and discussed in the present paper.
8. SOCIAL ATTITUDE AND MOODS
This phase of this paper tries to observe some of the social implications of the moods and its power structure in Malayalam. Age and sex are observed as social variables.
I chose a number of families with 25 males and 25 females for tape-recording naturalistic interaction over a period of more than two years. The informants were observed indirectly. The following table shows the distribution of the three moods in Malayalam in the families on the basis of sex and age to get an outlook of social significance of the moods. Table -1 gives the percentage of moods used by the females in their interactions with the family members and servants, and Table-2 gives the percentage moods used by the males in their interactions with the family members and servants. A pie chart representation is also given below.
Table-1 (Females)
| | | | | |
| --- | --- | --- | --- | --- |
| Moods | Vidhayakam | Anujaayakam | Niyoojakam | % |
| Father | 0% | 100% | - | 100% |
| Mother | 32% | 60% | 8% | 100% |
| Brother | 20% | 60% | 20% | 100% |
| Sister | 32% | 48% | 20% | 100% |
| Husband | 8% | 80% | 12% | 100% |
| Servant (f) | 36% | 4% | 60% | 100% |
| Servant (M) | 20% | 60% | 20% | 100% |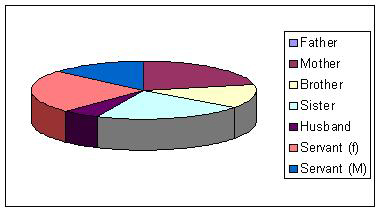 Table 2 Males
| | | | | |
| --- | --- | --- | --- | --- |
| Moods | Vidhayakam | Anujaayakam | Niyoojakam | % |
| Father | 0% | 100% | 0% | 100% |
| Mother | 40% | 52% | 8% | 100% |
| Brother | 24% | 40% | 36% | 100% |
| Sister | 40% | 24% | 36% | 100% |
| Wife | 48% | 0% | 52% | 100% |
| Servant (f) | 48% | 4% | 48% | 100% |
| Servant (M) | 48% | 12% | 40% | 100% |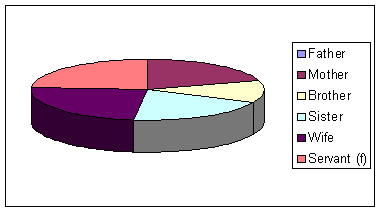 Both the tables show that father is a central figure and nucleus of power in a family so that the Vidhayakam and Niyoojakam, the moods of power, cannot be used to address or refer to father. Vidhayakam and Niyoojakam are the moods of rudeness and non-reciprocal, whereas the Anujaayakam is a mood of politeness so that it is reciprocal. This difference can be reflected in the use of moods.
Females use Vidhayakam to mother a bit lesser than the males. Females' usages of this device is 32% whereas males use it for 40%. The Tables 1 and 2 show the differences in percentage on the basis of sex and age. The females' use of Vidhayakam and Niyoojakam, the moods of power, to address and refer to their elders is lesser than the uses by the males (See Tables 1 and 2). It shows the attitudes of men as father, husband and brother toward women. Women are less honored and respected than the men. Yet one notices and anticipates a significant change, for, though such usage among women is lesser than the males' use, the Tables clearly show the changing attitude of women.
Some decades ago, women were not highly respected in Kerala. They were like an untouchable separate caste. They had been stratified in the lower level of the society even though they had followed the matrilineal system. It meant that property was inherited through the female line as opposed to the male line. The matrilineal system was not good for women. They might nominally owned property, but men made the major decisions. Power and money were under his control. The women were absolutely isolated. They had very limited freedom even to go to temples. They were the people of the kitchen.
Women started to ask why different positions carried different degrees of prestige and also some raised the question how certain individuals got into those positions. By asking the questions, they realized their pathetic condition in the society and thus began their struggle. Progressive social institutions also helped them. The present social scenario is totally changed. Their social status is improving. It's getting better and better.
9. POLITENESS AND SOCIAL POSITION
Women are expected to behave politely. So they are expected to use Anujaayakam since Anujaayakam is the mood of politeness whereas Vidhayakam and Niyoojakam express the mental attitude of rudeness.
Politeness is the linguistic expression of courtesy and social position. Tone of voice and mood can express politeness. The rules of politeness are different from society to society. It is a fact that sometimes the meaning may change, according to the intonation patterns. For instance, a rise-fall tone changes the meaning of Anujaayakam into rudeness and a fall-rise tone changes the Vidhayakam and the Niyoojakam into politeness. Through the variations of the intonations power structure is also changed.
In the male dominated society like the one we have in Kerala, women are not expected to use Vidhayakam and Niyoojakam to address or refer to men, especially elders. But, now, the condition is changing.
Kerala women are far better off than other women in the rest of India. Female literacy is at 87%. They are highly educated and hold 30% government jobs. This social change can also be seen in their use of language. Changing percentage of moods is one of the best examples. Earlier, women did not use moods such as Vidhayakam, and Niyoojakam to address and refer to men. Now they started to use these moods. There is a difference. Why the percentage, then, is not equally distributed? This question is very relevant. There are certain reasons. Here are some:
The old women are not ready to use Vidhayakam and Niyoojakam to address and refer to men. They are used to using moods of politeness.
Young women show respect to age.
10. FINDINGS
Following is the list of findings:
Age and sex are the determining factors in the usage of moods.
Age is a prestige factor.
Only the elder members use Vidhayaka Prakaaram. It is not used to address and refer to a man if he is father, a central figure in the family.
Both male and female members use Vidhayakam to address and refer to mother. But a percentage difference can be seen between the males and females.
Anujaayakam is used widely.
Female member are not interested in using Niyoojakam to elder members, especially to male members.
The family provides a situation in which roles are often highly structured and much activity is carried on verbally. The treatment of moods also shows it.
In the family, social norms are acquired by children and this can also get reflected in the usages of moods.
Age differences translate into power difference within a family setting; so younger generation tries to overcome such power difference and demonstrate their independence through the manipulation of the moods. Without using moods they can convey their messages (Oru glass vellam vennam (I want a glass of water), instead of it they can use oru glass vellam kittiyrunagil (If I get a glass of water).
Intonation pattern gives power and solidarity to moods.
The rise-fall tone shows power whereas the fall rise shows solidarity in the usage of moods.
11. CONCLUSION
This paper attempted to present an overview of the moods and their socio-cultural implications in Malayalam. Moods can express the power and solidarity that prevails in a transaction. But intonation can twist its nature. In fact, intonation makes the power, twists the power, and resists the power in the uses of moods. One should understand this situation. Then only he or she can use moods wisely and purposefully. If one fails to achieve this, he or she may face a lot of problem from the social institutions.
---
REFERENCES

Asher, R. E. 1997. Malayalam, London : Routledge

Girish, P. M. 2000. Adhikaravum Bhashayum,Calicut : Pappiyoon

Varma, Rajaraja. 1982. Keralapaniniyam, Kottayam:NBS.

Roy, C. J. 1999. Keralapaniyam (Translation), Trivandrum : ISDL.
---
CLICK HERE FOR PRINTER-FRIENDLY VERSION.
---
A BRIEF SURVEY OF HEBBAR TAMIL'S VERB MORPHOLOGY | SOCIAL ASPECTS OF MOODS IN MALAYALAM | INDIANIZATION OF ENGLISH MEDIA IN INDIA : AN OVERVIEW | I WANT TO LEARN TIBETAN | LEARNING KANNADA BY STUDENTS WHOSE MOTHER TONGUE IS KANNADA - SOME PROBLEMS | LANGUAGE NEWS THIS MONTH - The Case of a Missing Preposition, etc. | AN EXPLORATION INTO LINGUISTIC MAJORITY-MINORITY RELATIONS IN INDIA | A LINGUISTIC STUDY OF ENGLISH LANGUAGE CURRICULUM AT THE SECONDARY LEVEL IN BANGLADESH - A COMMUNICATIVE APPROACH TO CURRICULUM DEVELOPMENT | HOME PAGE | CONTACT EDITOR
---
P. M. Girish, Ph.D.
Central Institute of Indian Languages
Mysoer 570006, India
pm_girish@rediffmail.com