---
AN APPEAL FOR SUPPORT
We seek your support to meet the expenses relating to the formatting of articles and books, maintaining and running the journal through hosting, correrspondences, etc.Please write to the Editor in his e-mail address msthirumalai2@gmail.com to find out how you can support this journal.
Also please use the AMAZON link to buy your books. Even the smallest contribution will go a long way in supporting this journal. Thank you. Thirumalai, Editor.
---

---
---
BOOKS FOR YOU TO READ AND DOWNLOAD FREE!
---
REFERENCE MATERIAL
BACK ISSUES
---
E-mail your articles and book-length reports in Microsoft Word to msthirumalai2@gmail.com.
Contributors from South Asia may send their articles to
B. Mallikarjun,
Central Institute of Indian Languages,
Manasagangotri,
Mysore 570006, India or e-mail to mallikarjun@ciil.stpmy.soft.net.
PLEASE READ THE GUIDELINES GIVEN IN HOME PAGE IMMEDIATELY AFTER THE LIST OF CONTENTS.
Your articles and booklength reports should be written following the APA, MLA, LSA, or IJDL Stylesheet.
The Editorial Board has the right to accept, reject, or suggest modifications to the articles submitted for publication, and to make suitable stylistic adjustments. High quality, academic integrity, ethics and morals are expected from the authors and discussants.


Copyright © 2009
M. S. Thirumalai
---
Journey of Self-discovery in Anita Nair's Ladies' Coupé
V. Chandra, M.A.
---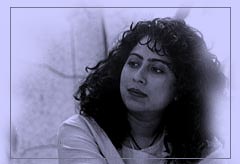 Anita Nair
Introduction - Voices of the Dumb
Men and women are complementary to each other. Neither of them can claim any superiority over the other. But in human civilization, they are often allocated a secondary role. However, they possess the power of endurance, affinity, love and foresight, which contributes to the happiness of others.
In those days, they were merely portrayed as the souls of dependence and this dependence can be effectively identified with a couplet from Manu, the ancient codifier of Hindu law:
Duteous girl obeys her father,
Husband sways the duteous wife,
Son controls the widowed mother,
Never free is a woman's life (137).
As they prefer others' happiness to theirs, women's identity is hidden behind the mask of sacrifice and dependence. Their voices are no better than the voices of the dumb, not audible to the world. But, nowadays, women are courageous enough to exhibit their individualities at all levels. Even though they possess the voices of the dumb, they have made it audible in recent years and they also started to shake the conventions of dependence. They are ready to undergo the most challenging journey of self discovery to make the whole world recognize them. Certain percentage of women had successfully reached their destination and remaining are on their way to the destination, "Self - discovery".
The Self
The self is the distinct characteristic individuality of a person. The human self is a self-organizing, interactive system of thoughts, feelings and motives that characterizes an individual. Carl Rogers, the famous psychologist, defined the self or self concept as "an organized, consistent, conceptual gestalt composed of perceptions of the characteristics of the 'I' and 'me' to others and to various aspects of life, together with the values attached to these perceptions."
Self, the result of human's awareness of the individual as a separate entity in the social environment, enables humans to regard their emotionally experience and their own integrity and identity in relation to their past, present and future. Self and society are interconnected and this is a kind of web, the construction of which is partly under guidance from self and partly under the guidance from the prevailing social pattern.
The subtle by-play between society and the individual by which the individual develops a sense of self through participation in social interaction, and yet possess a feeling of separation from others, is a fundamental social process which perpetuates culture and society. Literatures of all ethnic groups around the world deal with the issue of relationship between self and society in many ways. This becomes part of the socialization process. Indian Writing in English is no exception to this situation.
Indian Writing in English
Indian Writing in English has attained an independent status in the realm of Indian Literature. Wide-ranging themes are dealt with in Indian Writing in English. While this literature continues to reflect Indian culture and tradition, social values, and even Indian history through the depiction of life in India and Indians living elsewhere, recent Indian English fiction has been trying to give expression to the Indian experience of the modern predicaments.
Fiction by women writers constitutes a major segment of the contemporary writing in Indian English. It provides insights, a wealth of understanding, a reservoir of meanings and a basis of discussion. Through women writers' eyes one can see a different world and with their assistance one can realize the potential of human achievement. Every appraisal of the Indian English Literature will certainly result in an appreciation of the writing of women.
Creating a World of Women
One of the reasons why women have in such large number taken up their pen is that it has allowed them to create their own world and set the conditions of their existence completely free from the direct interference of men. Similarly, so many women have taken to reading women's writing because it provides them with a "safe place" from which they not only explore a wide range of experience of women of the world but also identify themselves with a range of women characters and variety of their existence.
Indian Writing in English by women is a distinct phenomenon today. The creative output of the Indian women writers, especially novelists, is marked by the choice of English, the medium of expression and expression of a woman's reaction to the varied situation in which tradition and modernity clash as well as synthesize. Indian women writers are dynamic witnesses to the peculiar socio-cultural historic, political conflicts faced by women especially Indian.
Communicating Globally
These women writers have given literary work in India an unmistakable edge. They are able to sensitively portray a world that has in it women rich in substance. Their women are real flesh-and-blood protagonists who make the readers look at them with awe with their relationships to their surroundings, society, men, children, families, mental make-ups and themselves.
They not only communicate with their own society but also with the global readers. Their primary task is to attempt an imaginative mediation between the traditional forces of Indian patriarchal joint family system and the new demands of modernity. They further seek to reconstruct the socio-cultural values from a woman's viewpoint.
One might tend to think of women writers only in a "Mills and Boon" context, but women writers in India have proved that they are made of sterner and more serious stuff. Indian women writers have grappled with complex issues such as sensuality, servility, subjugation and society. They have handled them with a sense of balance without disregarding Indian traditions. They also re-interpret mythology by using new symbols, which subvert the canonic versions. Their works are significant in making society aware of women's demands.
Anita Nair and Her Art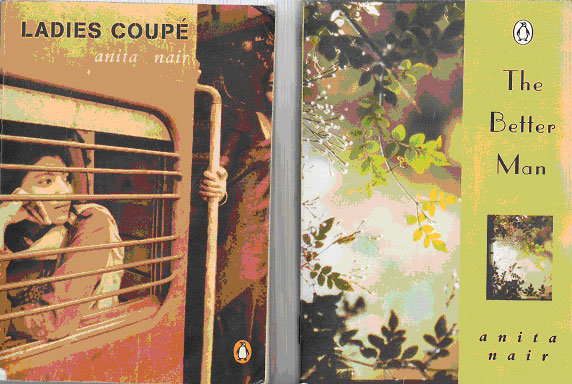 Anita Nair is one of the finest writers in Indian Writing in English with an international reputation. She was born at Mundakottakurissi near Shoranur in Kerala State. Anita was brought up in a suburb in Chennai (Madras), Tamilnadu. Her father was with the ordinance factories. Her grandparents lived in Kerala. So, Anita made frequent visits to Kerala and these trips enabled her to know the heart of rural Kerala.
Anita was working as the creative director of an advertising agency in Bangalore when she wrote her first book, a collection of short stories called "Satyr of the Subway" (1997). This book had won her a fellowship from the Virginia Center for Creative Arts. Her second book was "The Better Man" (2000) published by Penguin India. This was the first book written by an Indian author to be published by Picador USA. Her third book "Ladies Coupe" (2001) was rated as one of 2002's top five books of the year and was translated into more than twenty-five languages around the world. She has also written "The Puffin Book of Myths and Legends" (2004), a book for children on myths and legends. Anita has also edited "Where the Rain is Born" (2003).
Anita's writings about Kerala and her poetry have been included in "The Poetry India Collection and a British Council Poetry Workshop Anthology". She has also written a few other novels such as, "Mistress" (2003), "Adventures of Nonu, the skating squirrel" (2006), "Living Next Door to Alise" (2007) and "Magical Indian Myths" (2008). Her works also include many travelogues.
In fact, her works have been widely published in twenty seven countries to be precise and translated. Her work is not only critically acclaimed but also best-selling. She has been publishing regularly for the last seven years. She mesmerizes the readers with her evocative language and descriptions with which her novels abound.
---
This is only the beginning part of this Masters Dissertation. PLEASE CLICK HERE TO READ THE DISSERTATION IN PRINTER-FRIENDLY VERSION.
---
Spelling Variations in Kannada | A Survey of the State of the Art in Punjabi Language Processing | The Representation of Homosexuality - A Content Analysis in a Malaysian Newspaper | Noun Reduplication in Tamil and Kannada | Journey of Self-discovery in Anita Nair's Ladies' Coupé | A Study of Communicability and Intelligibility of Advertisements in Tamil With Special Reference to Tooth Paste and Health Drink | Explicit Grammar Instruction | Teaching English as a Second Language Using Communicative Language Teaching - An Evaluation of Practice in India | Discovering Values in English Language Teaching | The Core Functions of the Hindi Modals - Speech Act Approach | Textbook Analysis of English for Engineers | Cross-Professional Collaboration on E-Learning Courses | Reading Arundhati Roy's Fiction The God of Small Things Through Her Non-Fiction | Teaching English through Indian Writing in English in Rural India | Proverbs in Modern Tamil and Telugu Societies | Using Problem Based Learning Technique in Teaching English Grammar | Problems in Reading Comprehension Skills among Secondary School Students in Yemen | The Literary Value of the Book of Isaiah | Will Sentences Have Divergence Upon Translation? : A Corpus-Evidence Based Solution for Example Based Approach | HOME PAGE of October 2009 Issue | HOME PAGE | CONTACT EDITOR
---
V. Chandra, M.A.
Department of English
Karunya University
Karunya Nagar
Coimbatore - 641 114
Tamilnadu, India
chandrakarthickck@gmail.com
Send your articles
as an attachment
to your e-mail to
msthirumalai2@gmail.com.
Please ensure that your name, academic degrees, institutional affiliation and institutional address, and your e-mail address are all given in the first page of your article. Also include a declaration that your article or work submitted for publication in LANGUAGE IN INDIA is an original work by you and that you have duly acknolwedged the work or works of others you either cited or used in writing your articles, etc. Remember that by maintaining academic integrity we not only do the right thing but also help the growth, development and recognition of Indian scholarship.