---
AN APPEAL FOR SUPPORT

We seek your support to meet expenses relating to some new and essential software, formatting of articles and books, maintaining and running the journal through hosting, correrspondences, etc. You can use the PAYPAL link given above. Please click on the PAYPAL logo, and it will take you to the PAYPAL website. Please use the e-mail address thirumalai@mn.rr.com to make your contributions using PAYPAL.
Also please use the AMAZON link to buy your books. Even the smallest contribution will go a long way in supporting this journal. Thank you. Thirumalai, Editor.
---

---

---
---
BOOKS FOR YOU TO READ AND DOWNLOAD
THE ROLE OF VISION IN LANGUAGE LEARNING
- in Children with Moderate to Severe Disabilities ...
Martha Low, Ph.D.
SANSKRIT TO ENGLISH TRANSLATOR ...
S. Aparna, M.Sc.
A LINGUISTIC STUDY OF ENGLISH LANGUAGE CURRICULUM AT THE SECONDARY LEVEL IN BANGLADESH - A COMMUNICATIVE APPROACH TO CURRICULUM DEVELOPMENT by
Kamrul Hasan, Ph.D.
COMMUNICATION VIA EYE AND FACE in Indian Contexts by
M. S. Thirumalai, Ph.D.
COMMUNICATION
VIA GESTURE: A STUDY OF INDIAN CONTEXTS by M. S. Thirumalai, Ph.D.
Language, Thought
and Disorder - Some Classic Positions by
M. S. Thirumalai, Ph.D.
English in India:
Loyalty and Attitudes
by Annika Hohenthal
Language In Science
by M. S. Thirumalai, Ph.D.
Vocabulary Education
by B. Mallikarjun, Ph.D.
A CONTRASTIVE ANALYSIS OF HINDI
AND MALAYALAM
by V. Geethakumary, Ph.D.
LANGUAGE OF ADVERTISEMENTS
IN TAMIL
by Sandhya Nayak, Ph.D.
An Introduction to TESOL:
Methods of Teaching English
to Speakers of Other Languages
by M. S. Thirumalai, Ph.D.
Transformation of
Natural Language
into Indexing Language:
Kannada - A Case Study
by B. A. Sharada, Ph.D.
How to Learn
Another Language?
by M.S.Thirumalai, Ph.D.
Verbal Communication
with CP Children
by Shyamala Chengappa, Ph.D.
and M.S.Thirumalai, Ph.D.
Bringing Order
to Linguistic Diversity
- Language Planning in
the British Raj by
Ranjit Singh Rangila,
M. S. Thirumalai,
and B. Mallikarjun
---
REFERENCE MATERIAL
BACK ISSUES
---
E-mail your articles and book-length reports (preferably in Microsoft Word) to thirumalai@mn.rr.com.
Contributors from South Asia may send their articles to
B. Mallikarjun,
Central Institute of Indian Languages,
Manasagangotri,
Mysore 570006, India or e-mail to mallikarjun@ciil.stpmy.soft.net
Your articles and booklength reports should be written following the MLA, LSA, or IJDL Stylesheet.
The Editorial Board has the right to accept, reject, or suggest modifications to the articles submitted for publication, and to make suitable stylistic adjustments. High quality, academic integrity, ethics and morals are expected from the authors and discussants.


Copyright © 2004
M. S. Thirumalai
---
AN AGITATION IN SUPPORT OF MEITEI SCRIPT
M. S. Thirumalai, Ph.D.
---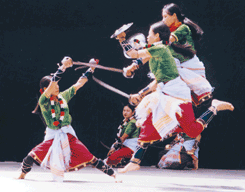 DEMAND FOR THE USE OF MEITEI SCRIPT - NOT A RECENT CONTROVERSY

Some newspapers called the recent agitation in Manipur for the adoption of Meitei script for the Meitei/Manipuri language as a fresh controversy. If anything, the demand is not a fresh controversy. The demand for the adoption of native Meitei script, in place of the Bengali script that has been in use for over 270 years, was seen only as a minor protest agitation in early 1960s. But it was taking deep roots even then in the sub-consciousness of young people, supported by several scholars through their studies and their untiring efforts in politicizing linguistic issues.

IN TUNE WITH CHANGES TAKING PLACE IN INDIA SINCE THE 1960s

The changes taking place elsewhere in India, especially the anti-Hindi agitation in the South, and the spectacular change of Congress governments in many Indian states in the sixties, helped foster a strong sense of Meitei identity. Internally, Meiteis started recognizing that their civilization, even before their adoption of Vaishnovism, was well advanced and self-sufficient in many fields.

IDENTITY CONSCIOUSNESS, AND SEEKING IDENTITY RECOGNITION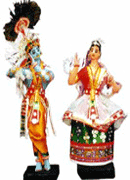 While all-India leadership would consider Manipur a small state with a small population and would assign it only a Union Territory status, Meiteis themselves were very conscious of their past independence, distinct identity and their dynamic past. Their arts, handicrafts, and agriculture, as well as the great freedom women enjoyed in their society, would encourage them to seek a strong sense of freedom. They were and are aware of the social evils that confront their society, especially in the form of alcoholism and unwanted polygamy, etc., but they also know that they are a robust ethnic group.
FEARS AND WORRIES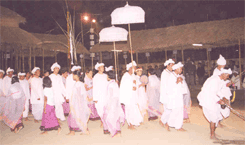 Meiteis are worried about their own land, surrounded as they are by people from the hills. Their land is a beautiful valley, but is practically surrounded by the hills in all directions, where the communities once looked down upon by them now flourish with the support of Central government programs and projects. Young men and women from these hill communities occupy high civil positions everywhere in India. And these communities follow a different religion, not Vaishnovism. Political demands of these groups, Meiteis feel, have been listened to with greater attention than their own demands and expression of their legitimate aspirations within the Indian polity.
WASTEFUL EXPENDITURE ON MISGUIDED LANGUAGE DEVELOPMENT
Successive governments in Manipur supported by the Central Government spent huge sums of money to propagate the use of the Devanagari in place of and/or in addition to the Bengali script. However, both the approaches, use of native Meitei script or the use of the Devanagari script, were not popular. The support for the Devanagari script dwindled, and the growth of the Meitei spirit in support of Meitei culture and literature was strengthened.
INTERNAL HURDLES FOR THE RECOGNITION OF NATIVE MEITEI SCRIPT
As Vaishnovism was seen closely related to the use of the Bengali script, people were very reluctant to take a leap of faith in favor of native Meitei script. Moreover, the native script was not yet convincingly proved to be the best alternative. What would they do with the materials already printed and published using the Bengali script for over 270 years?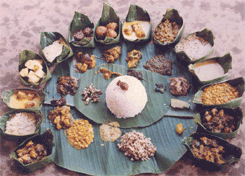 STRONG AND AT TIMES VIOLENT AGITATIONS
Most dramatic socio-political changes in Manipur since India became independent were brought about by mass political agitations, which sometimes turned very violent. The Manipur government's decision to introduce Meitei script in standards I and II from the 2005-2006 academic year also was brought about by the fierce political agitations of the student unions and alliances. The newspapers reported that "during the three-month-long agitation, the activists burnt down the central library, railway booking centre, four government offices and many trucks loaded with essential items."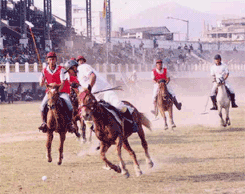 THE CHALLENGE BEFORE THE MANIPURI LINGUISTICS SCHOLARS - LINGUISTIC AND SOCIOLINGUISTIC PROBLEMS

The Manipur University recommended that the Manipuri (Meitei) script be taught in classes I to III from this academic year. The present decision of the government is to introduce the script in classes I and II this year. The textbook materials would be transcribed into the Roman script, ostensibly to pacify the hills population who write their languages in the Roman script. Hill students' associations have demanded that the Meitei script not be imposed on them. (This has the potential to bring in a dual script policy in practice, and ultimately sideline the native Meitei script altogether, given the tremendous interest in learning English.)
There is also the question of the number of letters in the Meitei script. There are at least two versions, one version with 27 letters presently recognized by the government and another version with 36 letters. It is not difficult to decide which one is the best, if Manipuri linguistics scholars are given a free hand. There are excellent grammars written by the missionaries and civil servants in the past, which give us great insights into the sound structure, diction, and grammar and literature of Manipuri. In addition, the native Manipuri linguists of the earlier and present generations have carefully considered the linguistic issues relating to their script, vocabulary, sound patterns, and grammar.
The question of marking the tones needs to be addressed. There are numerous other questions such as how to accommodate the sounds from the English and major Indian languages such as Hindi, Bengali, and Assamese, the immediate neighbors of the Manipuri language; as to how one could use this opportunity to bring unity among the Bishnupuriyas and the Meiteis through mutual accommodation; as to how modern means of communication such as the tools the IT revolution has made available could be exploited using the native script; as to how the loss of the Bengali script that would result in some loss of contact with adjacent languages could be minimized; as to how coinage and representation of technical terms could be efficiently handled by the newly adopted old script system; as to how the morphophonemic rules would be regulated with least ambiguity and bringing in ease of writing; as to how the handwriting conventions should be established through detailed and insightful guidelines taking also into consideration the human tendency to economy of effort; as to how flexibility is maintained for possible variations; as to how similarity in the shape of letters is maintained while maintaining the distinct recognition of individual letters; as to how we shall maintain the relationship between the printed letter and style from the handwritten style; or as to whether such a distinction is necessary at all; etc. etc.
TRAINING OF TEACHERS AND EARLY STANDARDIZATION - UREGENT NECESSITY
Training teachers in the teaching of the conventions to be adopted in writing the newly accepted Meitei script is a very important step. If this is not done, confusion will reign supreme not only in the present classroom but also in the future in offices and market places. Standardization is important, but this standardization should be based on common sense that flows from various quarters. I've already mentioned the role of our desire for economy of effort. Since the Vaishnavite religion holds a very strong sway over the Meitei masses, it is not going to be easy to make a clean, swift transition from the Bengali script to the Meitei script. Moreover, retaining the well established conventions of writing that Manipuri received through the use of Bengali script may be a good idea even when the same script is replaced by the native Meitei script.
WILL THE MEITEIS SCRIPT A NEW FUTURE?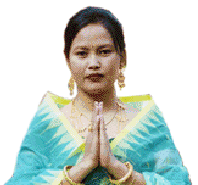 Script is not simply the means for representing the spoken word in writing. We have come to know this fact of life in India time and again - that script becomes synonymous with the history and the spirit of a language. And yet a linguistic community succeeds only if it strikes a balance between the extremes. Will our Meitei/Manipuri brothers and sisters bear this in mind even as they chalk out a new, bright future for them and their language?
CLICK HERE FOR PRINTER-FRIENDLY VERSION.
---
A MALAYSIAN ENGLISH TEXTBOOK FOR MALAYSIAN LEARNERS OF ENGLISH | THE ROLE OF CONTEXT IN SENSE VARIATION - INTRODUCING CORPUS LINGUISTICS IN INDIAN CONTEXTS | TEACHING LITERARY TRANSLATION PRACTICALLY | AN AGITATION IN SUPPORT OF MEITEI SCRIPT | A NEW BOOK SERIES OF CLASSICAL SANSKRIT LITERATURE | WORD CLASSES OR PARTS OF SPEECH IN TAMIL | SINDH IN THE SUPREME COURT | THE ROLE OF COMMUNICATION IN EFFECTIVE INSTRUCTIONAL DELIVERY | THE BIRTH OF KUMAARA, A NEW TRANSLATION OF KUMARA SAMBHAVA OF KALIDASA | HOME PAGE | CONTACT EDITOR
---
M. S. Thirumalai, Ph.D.
Bethany College of Missions
6820 Auto Club Road, Suite C
Bloomington, MN 55438
U.S.A.
thirumalai@mn.rr.com
Send your articles
as an attachment
to your e-mail to
thirumalai@mn.rr.com.