---
AN APPEAL FOR SUPPORT

We are in need of support to meet expenses relating to some new and essential software, formatting of articles and books, maintaining and running the journal through hosting, correrspondences, etc. You can use the PAYPAL link given above. Please click on the PAYPAL logo, and it will take you to the PAYPAL website. Please use the e-mail address thirumalai@mn.rr.com to make your contributions using PAYPAL.
Also please use the AMAZON link to buy your books. Even the smallest contribution will go a long way in supporting this journal. Thank you. Thirumalai, Editor.
---

---

---
---
BOOKS FOR YOU TO READ AND DOWNLOAD
---
REFERENCE MATERIAL
BACK ISSUES
---
E-mail your articles and book-length reports to thirumalai@bethfel.org, or send your floppy disk (preferably in Microsoft Word) by regular mail to:
M. S. Thirumalai
6820 Auto Club Road, Suite C.,
Bloomington, MN 55438 USA.
Contributors from South Asia may send their articles to
B. Mallikarjun,
Central Institute of Indian Languages,
Manasagangotri,
Mysore 570006, India or e-mail to mallikarjun@ciil.stpmy.soft.net
Your articles and booklength reports should be written following the MLA, LSA, or IJDL Stylesheet.
The Editorial Board has the right to accept, reject, or suggest modifications to the articles submitted for publication, and to make suitable stylistic adjustments. High quality, academic integrity, ethics and morals are expected from the authors and discussants.


Copyright © 2004
M. S. Thirumalai
---
A NEW KEYBOARD FOR TAMIL
Simpler and Easier to Learn and Use
S. T. Arumugam
---
SPEED OF TYPING AND KEYBOARD

The speed of typing, either on the typewriter or the computer, depends upon the number and the simplicity of the alphabet that a language has. The letters of some languages are very simple, and therefore, those are very easy to learn and can be typed quickly.

CHANGES IN TAMIL SCRIPT

Tamil language is older than many other languages in the world, and has seen a number of changes brought about in the forms of its letters over a long period. There have been several proposals made in the past to reform the Tamil script and to make it simpler. While some of the changes advocated by Periyar E. V. Ramasamy, have been accepted through government promotional effort, I do believe that the Tamil script still needs some drastic changes.

THE NEED TO SIMPLIFY THE TAMIL KEYBOARD

It is imperative that, in this computer age, the key board of Tamil for typewriters as also computers be simplified to help improve typing speed, for easy learning and to use this language extensively on computers.

In Tamil, the forms of some of the letters differ from one to another for the same vowel sound. This is the reason for the inclusion of a high number of letters in the Tamil keyboards designed so far.

I am a trained stenographer and have had experience in dealing with Tamil keyboards for over thirty years. It should be remembered here that the original modern keyboard for Tamil was designed by a talented stenographer!

A NEW KEYBOARD FOR TAMIL

For the last three years, I have been trying to remove the differences in the representation of vowel sounds when they are combined with the consoanants, and to re-design the Tamil keyboard to achieve faster typing like in English. Hard work has resulted in achieving a new design for the Tamil keyboard. Surprisingly, in the process of arranging Tamil letters in the new design, the total number got reduced to 215 from as high as 247 just because of a few modifications in the form of letters.

For example, a curve introduced for the consonants for the vowel sound 'oo' (as it sounds in book) and 'oo' (as it sounds in hook) straight away reduces 17 letters in the keyboard.

Some other suggestions that I make help reduce another 15 letters in the keyboard.

Existing Tamil keyboard on computers has 63 letters, and the keyboard is rather congested. But the new keyboard designed by me will have just 31 letters in all.

This invention totally eliminates the use of shift key in Tamil keyboard (since, as in other Indian language scripts, capitalization is not followed in the Tamil script), and makes Tamil learning easier even for foreigners because of simplicity and complete uniformity in the forms of its letters. The reduction in the number of letters make it easy for every one to learn the Tamil script, use a simple keyboard, and achieve a faster typing speed. If the changes that I have made in the Tamil keyboard are adopted, I strongly feel that it is possible to get a new status for Tamil language world wide.
---
Annexure 1 Existing Tamil Key Board

---
Annexure 2 Newly designed Sampurna Tamil Key Board (for which patent registration is requested)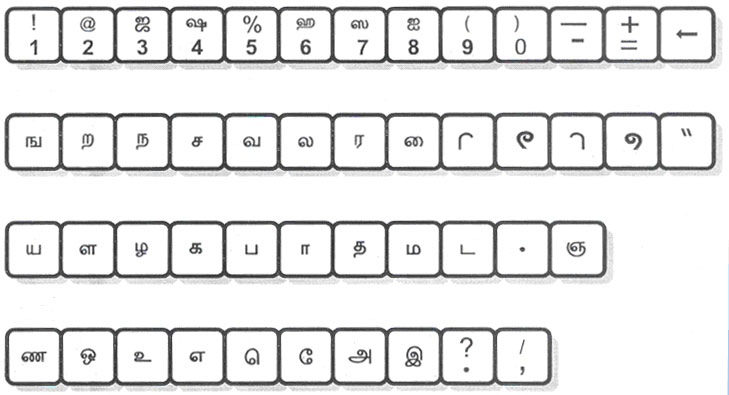 ---
Annexure 3 Tamil Materials Typed Using the New Keyboard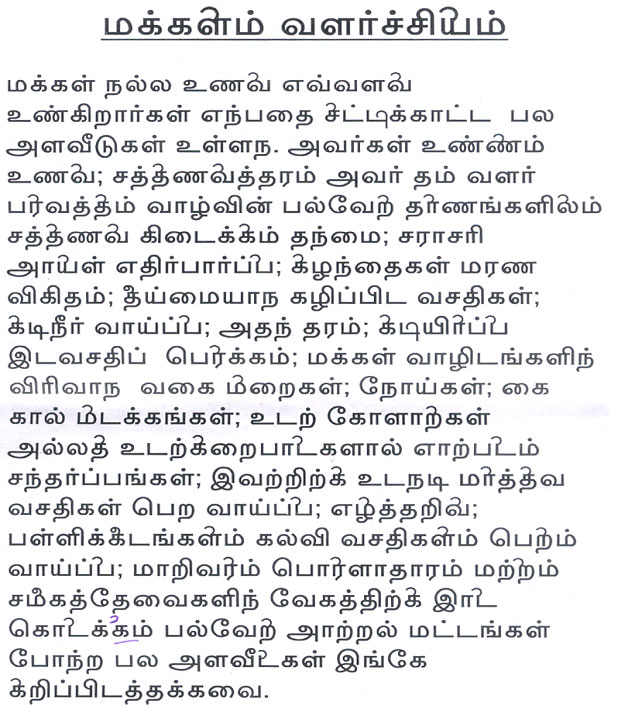 CLICK HERE FOR PRINTER-FRIENDLY VERSION.
---
INDIAN TELEVISION GLOBALIZES MULTILINGUALISM, BUT IS COUNTERPRODUCTIVE | ON THE MOTHER TONGUE MEDIUM OF INSTRUCTION POLICY - CURRICULUM INNOVATION AND THE CHALLENGES OF IMPLEMENTATION IN NIGERIA | AN EXPERIMENT ON THE EFFECT OF LANGUAGE ON KNOWLEDGE | SANSKRIT TO ENGLISH TRANSLATOR | THE NEED FOR THE STUDY OF LANGUAGE AND LITERATURE IN AN AGE OF TECHNOLOGICAL REVOLUTION - Stop the Dehumanization of Contemporary Education! | A NEW KEYBOARD FOR TAMIL - Simpler and Easier to Learn and Use | COMMUNICATION ABILITY AND LEADERSHIP - Some Suggestions for Those Seeking Professional Careers | ANUMAANA AND SHABDAPRAMAANA - Inference and Verbal Testimony | HOME PAGE OF THE JOURNAL | HOME PAGE OF THIS ISSUE | CONTACT EDITOR
---
S. T. Arumugam
129 Karunanidhi Nagar
Peelamedu Main Road
Sowripalayam
Coimbatore 641028, India
arucbe_02@yahoo.com
Send your articles
as an attachment
to your e-mail to
thirumalai@bethfel.org.
---