---
AN APPEAL FOR SUPPORT

We are in need of support to meet expenses relating to some new and essential software, formatting of articles and books, maintaining and running the journal through hosting, correrspondences, etc. You can use the PAYPAL link given above. Please click on the PAYPAL logo, and it will take you to the PAYPAL website. Please use the e-mail address thirumalai@mn.rr.com to make your contributions using PAYPAL.
Also please use the AMAZON link to buy your books. Even the smallest contribution will go a long way in supporting this journal. Thank you. Thirumalai, Editor.
---

---

---
---
---
BOOKS FOR YOU TO READ AND DOWNLOAD
---
REFERENCE MATERIAL
BACK ISSUES
---
E-mail your articles and book-length reports to thirumalai@bethfel.org, or send your floppy disk (preferably in Microsoft Word) by regular mail to:
M. S. Thirumalai
6820 Auto Club Road, Suite C.,
Bloomington, MN 55438 USA.
Contributors from South Asia may send their articles to
B. Mallikarjun,
Central Institute of Indian Languages,
Manasagangotri,
Mysore 570006, India or e-mail to mallikarjun@ciil.stpmy.soft.net
Your articles and booklength reports should be written following the MLA, LSA, or IJDL Stylesheet.
The Editorial Board has the right to accept, reject, or suggest modifications to the articles submitted for publication, and to make suitable stylistic adjustments. High quality, academic integrity, ethics and morals are expected from the authors and discussants.


Copyright © 2004
M. S. Thirumalai
---
---
LEARNING CLASSICAL STYLES OF LANGUAGES
A BRIEF REVIEW OF HOW BIBLICAL LANGUAGES WORK
M. S. Thirumalai, Ph.D.
---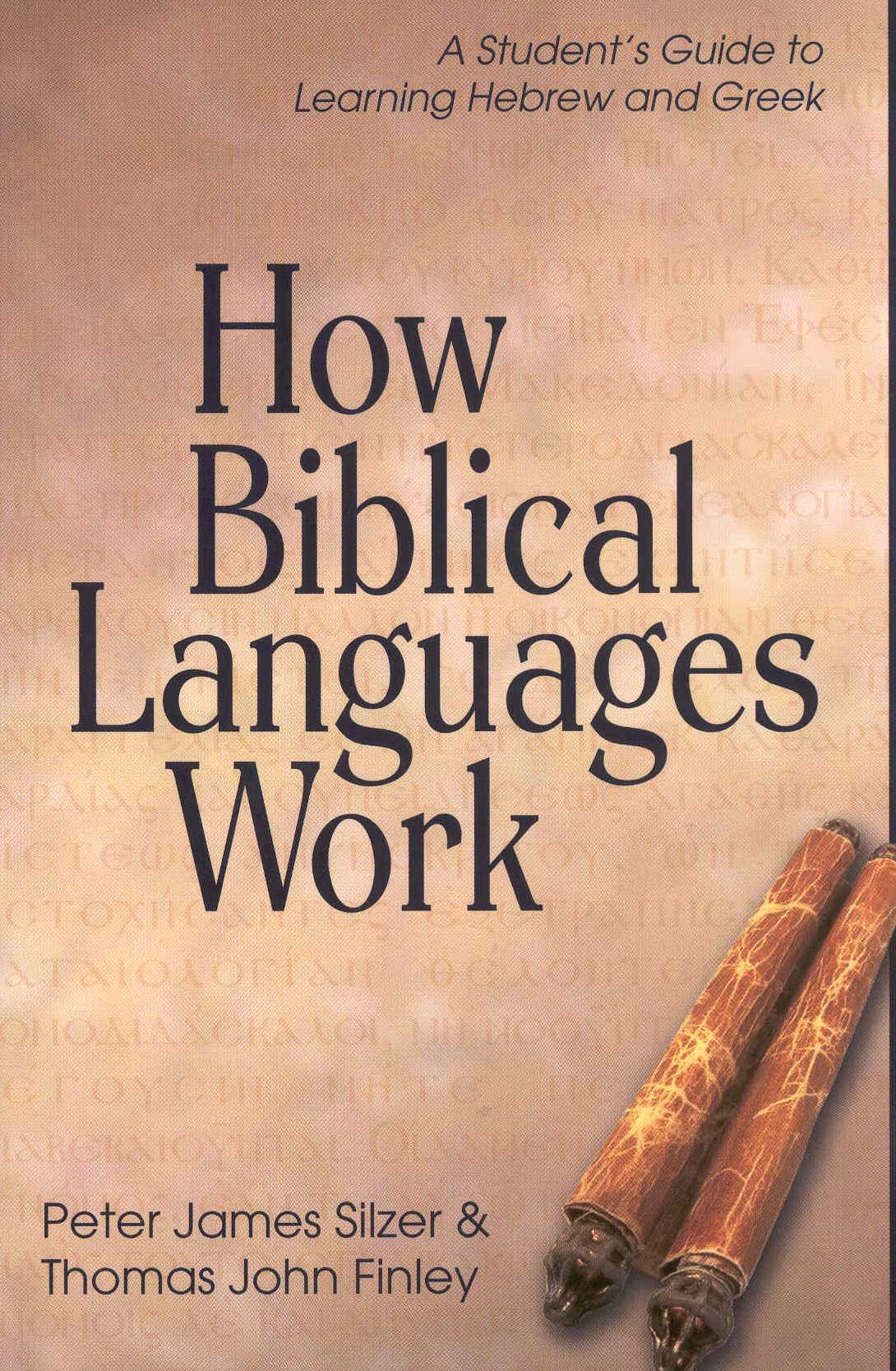 HOW BIBLICAL LANGUAGES WORK by Peter James Silzer and Thomas John Finley, Kregel Publication, Grand Rapids, MI, 2004.
A LEARNER-CENTERED APPROACH TO TEACH CLASSICAL STYLES
How Biblical Languages Work is a very interesting book that offers a model for anyone who wishes to prepare a textbook to teach how classical styles of Indian languages work. In order to spread the knowledge of the classical styles of language that we find in Sanskrit and languages like Tamil, we really need to develop learner-centered materials that teach such styles. This book shows us the way, by combining essential elements of the languages to be taught with a subtle introduction and use of basic linguistic concepts that a learner needs to have while learning classical languages.
BIBLICAL LANGUAGES
Written by two eminent linguists who teach Hebrew and Greek, this book is a fine blend of linguistic information, learning aids, and exercises. Professors Peter Silzer and Thomas Finley are life long students of Hebrew and Greek. The term biblical languages refer to that variety of tongues in which the Bible was originally written. The Old Testament was written in the Hebrew language, whereas the New Testament was written in popular and common Greek used for commerce and politics. The Old Testament also contains portions in Aramaic dialect. Styles of both these languages are not spoken now, but a clear interpretation of the Bible depends on the understanding of these styles.
CONTENTS OF THE BOOK
The book is presented in eight chapters, well written with examples and exercises. I give below the list of contents that explains the depth of presentation:
1. The Big Picture: An Overview of How Language Works
Five Key Characteristics of Language
Three Essential Ways to Look at Language
How Language and Culture Relate
Summary and Preview
For Further Study
Internet Resources
Exercises
2. Can You Spell That? Reading and Writing
How Writing Works
Three types of Writing Systems
The Sounds of Language
The Sounds of Hebrew
The Sounds of Greek
The Semitic Origin of the Greek and English Alphabets
The Shapes of Hebrew, Greek, and English Letters
Summary and Preview
For Further Study
Internet Resources
Exercises
3. Putting It into Words: How Words Are Made
How We Can Understand Words
How We Classify Morphemes
How Morphemes Add Meaning
Affixes That Add Grammatical Information to a Word
Questions That Languages Ask About Nouns and Pronouns
Questions That Languages Ask About Verbs
Hebrew Morphology
Comparing Hebrew, Greek, and English Morphology
Putting Inflection and Derivation Together
Morphemes with More Than One Form
Classifying Languages
Summary and Preview
For Further Study
For Further Study
Exercises
4. Putting Words Together: Phrases and Clauses
Putting Words in Groups
Analyzing Phrases and Clauses
Picturing Phrases and Clauses
Forming Phrases
Classifying Languages by Word Order
Summary and Preview
For Further Study
Exercises
5. Telling Stories and Writing Letters: Understanding Discourse
Discourse Patterns
Discourse Types
Discourse Tools
Summary and Preview
For Further Study
Exercises
6. What Do You Mean? It's Just Semantics
What Do You Mean by Semantics?
How Can a Word Have More Than One Meaning?
How Are Words Related?
What About Figurative Language?
When Is Language Ambiguous?
How Is Sentence Like a Play?
How Does Context Relate to Language?
How Do We Get Things Done with Language?
Summary and Preview
For Further Study
Internet Resources
Exercises
7. Variety Is the Spice of Life: Dialects and Change
Why Do People Speak Differently?
Why Do Languages Change?
How Do We Know When Languages Are Related?
Summary and Preview
For Further Study
Internet Resources
Exercises
8. Practical Ways to Study (and Learn) the Biblical Languages
Separating the Children from the Adults
Are You Motivated? Yes!
How Your Personality Type Affects Learning
Seeing, Hearing, and Doing
Setting Goals in Language Learning
How Can I Learn All Those Words?
Hints for Learning Hebrew Vocabulary
Hints for Learning Greek Vocabulary
Summary and Preview
For Further Study
Internet Resources
Appendix: Glossary of Linguistic Terms
Definition
For Further Study
Internet Resources
Reference
References to Linguistics in General
References to Linguistics and the Bible
References to New Testament Greek
References to Biblical Hebrew
GOALS ACHIEVED!
As I see it, the aim of the book appears to be three-fold: first to motivate the learner and to assure him or her that learning a classical language is not difficult at all, and that learning a classical language is a rewarding experience. This is accomplished by giving examples from the languages already known to the learner and by giving simple examples from the target languages.
A second aim appears to be a description of the intricacies of the target languages in simple terms with exercises and tools for further study. The book does not aim to teach the target languages in the traditional sense, but aims at preparing a solid and valuable ground for immersing oneself into a detailed textbook. The learner becomes more confident when he or she deals with the exercises given, and focuses on the characteristics of the target languages presented in simple terms.
The third aim is to use, in a very subtle and easy manner, the tools of linguistic description to make the learners understand how language in general and how the target languages in particular work. Adults want to know how things work; they want to place things they come across into some manageable order for memory and easy access. The distinguished professors carefully identify the linguistic processes and patterns of the biblical languages and present them in a legible manner for the benefit of the learners.
A very valuable book, indeed!
---
CLICK HERE FOR PRINTER-FRIENDLY VERSION.
---
LANGUAGE AND INDUSTRIAL DEVELOPMENT IN INDIA | THE ROOTS OF LINGUISTIC REORGANIZATION OF INDIAN PROVINCES - DR. ANNIE BESANT AND HER HOME RULE MOVEMENT | MALAYALAM - HOW TO ARREST ITS WITHERING AWAY? | PANINI'S GRAMMAR - A FEW CHARACTERISTICS | LEARNING CLASSICAL STYLES OF LANGUAGES - A BRIEF REVIEW OF HOW BIBLICAL LANGUAGES WORK | RELATIONSHIP BETWEEN VERBAL ABILITY AND STUDENTS' ACHIEVEMENT IN SECONDARY SCHOOL SOCIAL STUDIES IN SOUTHERN NIGERIA | COMBATING TERRORISM - CONFLICT AND POWER EQUATIONS - A Sociolinguistic Perspective - WHAT CAN INDIAN MYTHOLOGY AND PROVERBS OFFER? | HOME PAGE | CONTACT EDITOR
---
M. S. Thirumalai, Ph.D.
Bethany College of Missions
Bloomington, MN 55438, USA. thirumalai@mn.rr.com
---
---
Send your articles
as an attachment
to your e-mail to
thirumalai@bethfel.org.
---
---
---
---